Month 1: Recap
One month in. It's crazy to write that out. I'm long past my previous record for solo travel and I'm closing in on my longest length outside of the US in just two weeks time. But before I get to the recap and summary, let me introduce the format.
Each month, I want to share my statistics with you because, one, I'm a huge stats nerd and have been keeping track of all of this for my own enjoyment, and two, I know many of my readers are curious on how travel like this is possible. So at the end of each month, check back for the new summary. The following format is influenced by one of my favorite travel writers and I think she has a great design down. I've changed things up a bit to my interests, but check out Lauren's Summaries here.
Blink and you'll miss it
New Zealand went by in a whirlwind. When I first set out planning my trip here, one month felt like a long time. And once I started explaining my trip to friends and family, I got the same reaction. Well I can tell you now, one month is not long enough to see everything there is to see. While it is a small country, New Zealand is so rich in sights that I'd suspect even two months could be rushed. For example, in 29 days I visited 12 cities or towns. That's crazy fast! And I still didn't hit all the major sights!
But it was a great country to start my Round the World adventure. Obviously English is spoken here and culturally it is similar enough that I didn't experience any culture shock. It also helps that the US dollar trades at about 75 cents to every one New Zealand dollar!
Right off the bat I started jotting down notes to myself about my observations and I figured I would share a couple with you all here. I'll continue to share more as I recount my various adventures across New Zealand.
Right, Left, Right
If you're from the states, growing up you're taught to look both ways before crossing the street. And that you should look left then right then once more to your left before crossing the street. You all still with me? Well, I didn't realize that this doesn't work in countries that drive on the opposite side of the street! Ha. Good thing it only takes one close encounter with a bus to bring up that realization. So for the rest of the month I was convinced that I'd have a momentary brain fart, revert to my childhood teaching and step out into traffic at the most inopportune time. Thankfully, I made it through unscathed.
On the subject of transportation, I also learned quite a bit while traveling throughout New Zealand. First, buses will show up early and leave before their scheduled departure time! Intercity, the bus company I used, recommends that you arrive 15 minutes early before your departure time. I initially figured that was just like everywhere else I ever traveled. But over the course of the month, I would consistently see the bus pull away 10 minutes early. I can't imagine how frustrating it would be if you showed up right on time! And don't get me started about the ferry. I got there super early as I wanted to grab a good seat, but we left 30 minutes early! Now, maybe everyone was on board and all cars loaded up too. But what if not? I guess you'd be stuck waiting for the next one 3 hours from now. Crazy.
Great Hostel
I was very lucky to find some really cool hostels throughout the month and choosing my favorite is really difficult. The things I look for in a hostel are: spaces to encourage interaction among guests, good kitchen supplies, good location, and a special ambiance. With the exception of the last item, I would hope that most successful hostels would provide these things. Unfortunately that isn't always the case. But for three places I stayed at this last month, they had these three plus a special extra sauce that made me not want to leave.
Runners-up were YHA Mt. Cook in Mt. Cook Village and Lazy Dog Backpackers in Turangi. Both had great spaces for interaction, good kitchen equipment and good location. I'd highly recommend either if you get the chance to stay there.
But my hands-down favorite was Laughing Kiwi Backpackers in Motueka. This YHA and BBH affiliated hostel had everything going for it. From a sweet barbecue grill out front that I fried up some lamb steaks on, to fancy kitchen knives, to a great homely feel, there wasn't much I was left wanting.
Not Great Hostel
Ugh, this place was the worst. No contest. Unlike my favorite hostel, there was no question which deserved to be the worst of the month. I stayed in Queenstown for four wonderful days, I met amazing people, and I saw and experienced amazing new things. I also stayed in a shithole.
Now perhaps that's a bit harsh, but compared to all the other hostels I frequented throughout the rest of the month, this just didn't hold up. I stayed at the Base Backpackers Queenstown in a 10 bed room. This was one of the largest hostels I stayed in and because I came to Queenstown during peak season, there was little choice but to stay in one of the big name brand hostels. In New Zealand, Base and Nomads brands are considered the gorillas of the hostel market. They cater to gap-year kids and party animals. I'm neither and I instantly felt out of place. The kitchen was a wreck and was very poorly appointed. And the rooms were turning over so often that the cleaning crews had no hope of keeping the place clean.
Its only redeeming quality was that I met two really cool guys there that I would count as my first friends I made on the trip. To find out more about the happy experiences in Queenstown check out my article Queenstown adventures and new friends.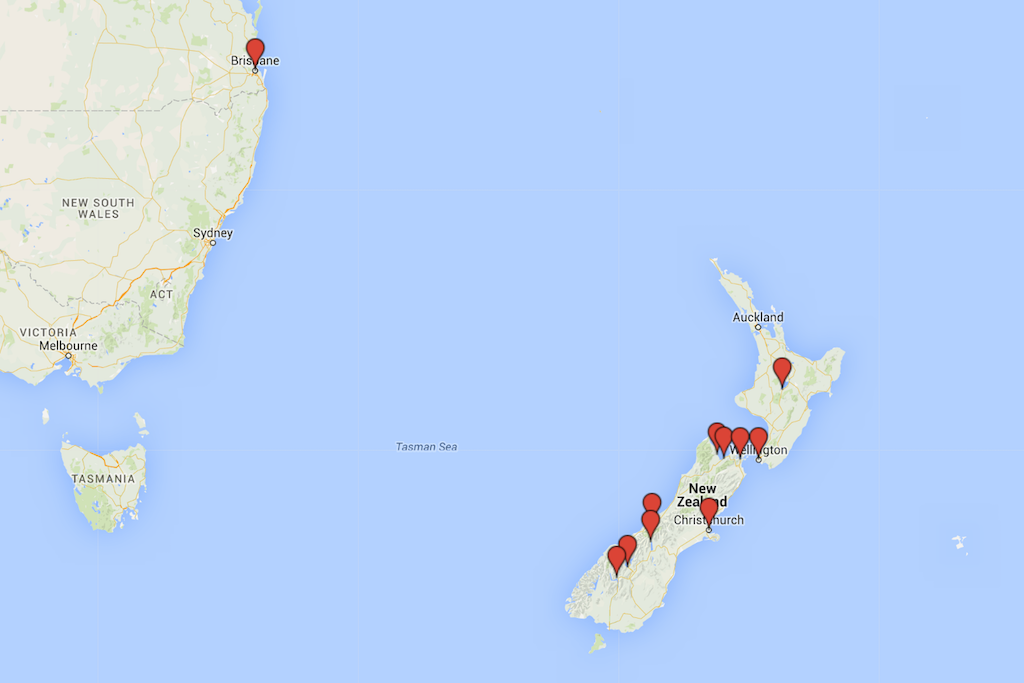 Countries Visited: 3
United States, Australia, New Zealand
Cities Visited: 12
Portland, Brisbane, Christchurch, Mt. Cook Village, Wanaka, Queenstown, Franz Josef, Nelson, Motueka, Picton, Wellington, Turangi
Budgeting
Accommodation:
$638.26 or $23.64 per day
While this may seem cheap, it pained me to pay as much as I did in most locations. I know what you're thinking, $23 US a day is crazy cheap. But just wait until my summaries from my time in Southeast Asia! My target per day is $50 total so Accommodation made up 50% of my budget every day. I stayed the entire month at hostels. Most were really good to excellent.
Food:
$340.84 or $12.17 per day
I did surprisingly well on the food budget. This was helped by eating in for most of my meals. Grocery stores are plentiful throughout New Zealand and prices are actually pretty good. Lamb steaks were $3.60 per pound!
Transport:
$370.24 or $13.71 per day
I took 17 buses, 7 cars, 4 planes, 4 boats, 3 trains, 2 helicopters, and 1 kayak during the month! I kept costs down by traveling via bus for a majority of the month. It's a bit more restrictive than renting a car, but most of the places I wanted to see were in town or near where the bus dropped off so it worked out well. Also see my article about how I rented a BMW for free at the beginning of my trip.
Entertainment:
$877.83 or $31.35 per day
Ugh. This is what sent my budget over the edge. I knew I was going to go over in New Zealand and the same will hold true for Australia. With perhaps the exception of Japan or Dubai, these first two countries will be my most expensive of the entire year. Best to get them out of the way early on. Big single ticket items were bungy jumping for $150 and heli hiking for $272. But they were totally worth it. Just like the rest of the activities I did. I also included my beer drinking in here as it's not a requirement like my food category. I tried 40+ new beers during the month!
Miscellaneous:
$96.35 or $3.57 per day
I broke my cheap sunglasses and left behind a long sleeve shirt at some point. I replaced both. I also included the cost of my sim card for one month here.
Total
$2,323.53 or $82.98 per day
Not half bad. I expected to spend $2500 so coming in just under that was very nice.
Next Month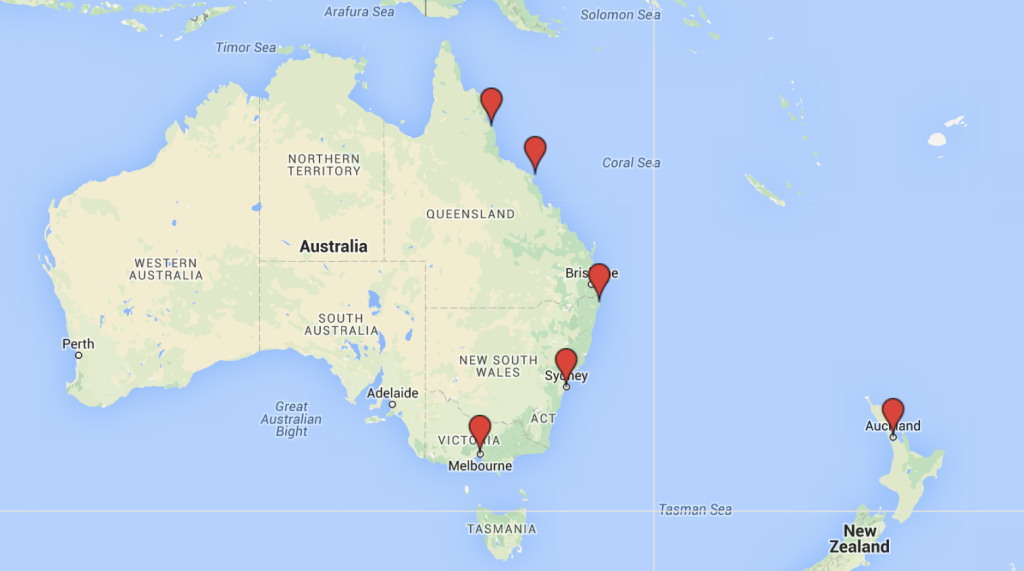 I'll be in Auckland at the beginning of March to finish my four weeks in New Zealand. Then I'll take a quick flight across the Tasman Sea to Sydney where I'll plan to be for about 5 days. The rest of the month will find me hopping around the eastern coast of Australia hitting Melbourne, Byron Bay, the Whitsunday Islands, and Cairns.